A key scene in the film
Batman Begins
(2005) is when Batman leaves the body of a gangster on a search light and creates the silhouette of the Bat-Signal against the sky. But, could that really happen?
Not even Dermot Power, the concept artist, believed it. Christopher Nolan's
Batman Begins
was a visually stunning film and one of the artists that helped shape that vision was Dermot Power. He also worked on
Star Wars: Episode II Attack of the Clones, V for Vendetta
and
Alice in Wonderland
.
In the scene, crime boss Carmine Falcone (Tom Wilkinson) is left on the search light for the police to find. It later inspires Commissioner Gordon to create the Bat-Signal.
Here's the scene from the script:
Gordon looks up. The uniformed Cop is POINTING. At a HARBOR
LIGHT trained on the heavens. Gordon RISES, walks towards
it. Two Cops stand there, STARING:
Falcone is STRAPPED to the LIGHT, UNCONSCIOUS, arms spread.
Coat RIPPED, hanging from his arms in a STRANGE PATTERN.

COP 1
Th hell is that? Looks like...

Gordon follows their gaze up to where the BEAM of light CATS
FALCONE'S SHADOW onto the CLOUDS.

COP 2
Like a bat.

Gordon stares at the projection. It is a BAT SYMBOL.
Although it sounds cool, it's kind of goofy. Would that work? Let's look at the concept art and see if it makes more sense. I've included the artist's comments as well for context.
Falcone on the spotlight ...costume not based on anyone elses [sic] design despite what the books say (not that it's original)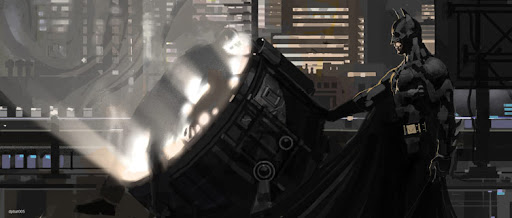 Bit of a cheat with the horizontal city windows...suits the pic though. Colour variation knocked in with GEL layers.
The classic Bat Signal...maybe you could believe it's formed from bad guy on spotlight? maybe not
So, besides the fact that the heat from the searchlight would have fried him to a crisp, there's very little chance it would have made anything like a Batsignal. Glad to know I agree with Power.
Here are a couple more great
Batman Begins
concept paintings I love. There are a lot more on his site
here
.
To see more moody concept designs check out his portfolio at
DermotPower.com